By Elizabeth Barnes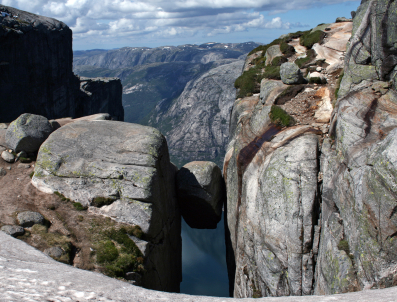 I have learned that being between a rock and a hard place isn't necessarily a bad place to be, as I have seen the largest blessings in life come from the hardest trials and most torrential tribulation. When you're in the hardest places, it's what you do and how you react in the discomfort that will determine the blessing at the end.
Just be prepared to get what you ask for! Prayer is a powerful weapon! Through prayer, we can take back what the devil stole from us, and even bind the devil and all his demonian! Prayer is life changing time in His presence. Will you run to Him in times of trouble and sorrow, or will you allow the devil to be the wind in your sail and drift away from the Lord? Take my wonderful parents for instance. I have prayed to God, on a regular basis, that He would surround my lost father with Godly influence that would reflect God's love for him, and guide him to a saving knowledge of Jesus Christ.
My prayer was answered in a way I didn't expect, but I wasn't surprised either. My mother discovered, as the Lord meant her to, that she has stage-two colon cancer. However, instead of running away from God during this time between a rock and hard place, she has gone back to church, renewing her relationship with Jesus, and looking forward to Heaven one day. So, when you pray, "Lord, let your will be done on earth as it is in Heaven," you'd better believe what you're praying for, or at least be ready for the answer.
I have also learned mountains are put before us to climb, and the giant is there for us to conquer, take his sword, and use that weapon at another time. Through faith and prayer, we can discover how to climb that seemingly monstrous mountain, how to conquer that giant, and how you are going to use that weapon when you need it.
Looking back at the blessings in the storms, nothing has ever transformed me more, than the mountains and the giants that have been allowed to shake up my life. Change isn't easy, but the Lord never promised an easy life, however, He did promise us an abundant one! I'd rather have His favor, than gold or an easy life.
The simple truth is God is no respecter of persons. The miracles that He performs for one, He is still performing today, and He can do them for you too. He is just looking for faith, obedience, and love. The greatest blessings come to those that persevere through the pain, so keep on keeping on!