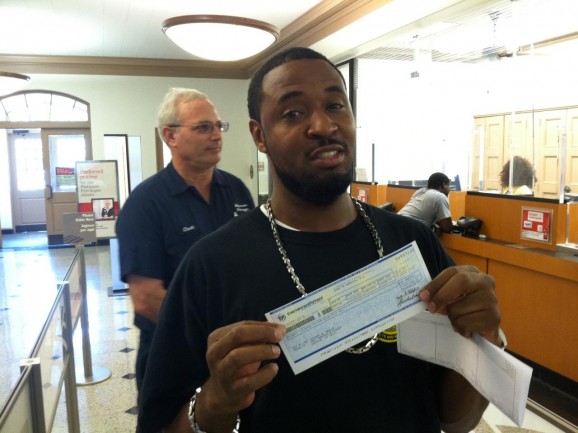 Think of us as Spiritual Investors. We invest our time, experiences, resources, and finances in those who are in need. If you have a need, whether it be prayer, encouragement, or financial; send us a note through our contact page. Give us details of need and leave us your contact information.
The young man, in the picture above, contacted Faith Talk Ministries for prayer due to unemployment. He had been out of work for over a year and was then under-employed for about 3 months. Just recently, He sent us another message letting us know that He had found better employment.
Due to being out of work for so long, he was having trouble getting the tools he needed for his new job. He let us know exactly what He needed and asked if we could provide some assistance. We were delighted to have an opportunity to help a young man getting back into the workforce.
Our board members prayed about the situation, assessed the need, and assisted this young man in getting the tools he needed. Mr. Taylor was so thankful for the fellowship and provision that Faith Talk Ministries provided that he sent us this picture of him cashing his first check. We asked him how he felt and this is what he said,
I feel like the Lord has allowed life to radiate from His Son Jesus Christ on the sea of despair, drying it up, allowing me to now walk standing firm on what He has promised and not be carried into my future.

God Bless You,
Mr. Taylor
Wow, when we saw this picture and the expression of joy on Mr. Taylor's face–we knew that God was doing a great work through our ministry. Many have heard the saying, "A picture is worth a thousand words," but today this expression has been fulfilled in our eyes.
**If we can help you in anyway along your spiritual journey through life, Contact Us.**