By Marcie Whitley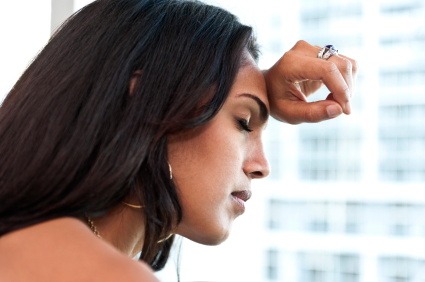 I remember a day when I was sad and under attack. I had just heard the words "You aint no woman of God, you are a fake and a flake". All day being reminded of my failures and mistakes like a task master standing over a slave. It hurt so bad, all I could do was cry on the inside. I remember saying to God in a hopeless quiet voice " I'm sorry God, I'm such a loser. I am pathetic. I will never be like other women who are beautiful, smart, and have it all together.
Ugh, I am such a failure" while moping around in the clutches of dispare. Later on that day I came home with two messages waiting in my inbox from women I didn't know. One said "You are anointed Women of God!! Bless You. Powerful testimony!!! The other one said "You were one of the craziest and sweetest girls I new in school. Good memories" instantly I knew that God used these two women to remind me that I am valuable, loved, and significant in spite of the negative words or thoughts toward me, even my own mistakes.
I'm so thankful for a God who truly hear the cries of the broken and weak. Who knows our inner struggle. Who holds our hand and intercedes on our behalf everyday. In spite of all the odds stacked up against us, the failures, the mistakes, and rejection; with him we are able to push forward victoriously courageous! His thoughts toward us are always loving. Jeremiah 29:11, "For I know the thoughts that I think toward you, saith the LORD, thoughts of peace, and not of evil, to give you an expected end."
I love you Jesus, I could never make it without you. I love you so much, thank you Lord for being a really good friend! If humanity only knew the love God has for us, his creation. How important we are to him regardless of our titles, race, religion, or accomplishments. I believe that the Father looks upon each of us with love and unspeakable joy like a mother who beholds her newborn for the first time.
Today, I encourage you to look upon someone who may be weak in faith, an outcast, someone who just cant get it together, someone who is constantly making mistakes, someone who tries but fail, someone who performs "inadequately", and give them a loving word of encouragement. Regardless of their actions, change your thoughts toward them to positive thoughts even if they "cant get right" and speak it over them. Remind them of the thoughts God has toward them. By the way, while you are at it, don't forget to began with yourself. ✦ ♍ᵃʳᶜⁱᵉ ♏ᵒˢᵉ≌
Marcie Whitley | Create Your Badge