By Tiara Harris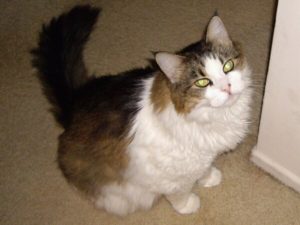 Thirteen years ago for some reason I can't recall I ended up at this girls house ….. She had a cat who had just had kittens and all the lil babies were running around sooo cute and I love kittens so I just wanted to play with them….I noticed in the corner one of the babies was barely moving…barely breathing…she looked so sick and s…he was literally fur and bones…I asked what was wrong with that one and she said she didn't know and since the mother cat rejected her she wouldn't eat anything else…she said she was gonna let her die..
I see she is dying but are u just gonna leave her here in this corner to die like this ???
I ask can I take her home with me and she has no problem with that…my boyfriend at the time, my friends, my Dad everybody asked me why I went out and got a dying cat….a scrawny, sickly, barely breathing two week old kitten….
I wasn't trying to save her life or anything…I didn't take her to the vet…the truth was I just wanted her to feel some Love for her last few days because I honestly didn't think she was gonna live much longer than that….I didn't name her….didn't go out and buy anything like I planned to take care of her … I just didn't want her to die alone in a corner
I carried her around close to my heart all the time…told her I loved her and just cuddled with her….I would give her milk just because…she was to weak to do anything and the only place she liked to be was on my chest…
A few days went by….then weeks…she started to eat more….she was breathing regularly…she was starting to walk….
Now over 13 years later here she is…..She loves to be Loved