By Steve Bartkowski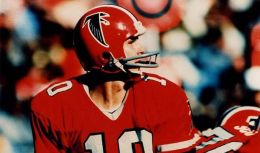 Drafted by the Atlanta Falcons in 1975, Steven Bartkowski was the number one pick of the year. The eldest child and the only boy, Bartkowski credits his father for his athletic ability. "My dad was a professional baseball player so I grew up with a solid baseball coach. He pointed me down the baseball road: I didn't really get into football until I was a freshman in high-school." Though his father continued to root for baseball, his mother supported his football interest. In the mid 70's, Steve seemed destined for the "perfect life" track. Within the next three years, he became entrenched into his dream career and found the love of his life. And then things changed. Bartkowski lost his job in the pre-season of 1978.
"It was my 4th season and I should have been taking off and proving to people why I was the number one draft choice, but I fell flat on my face. I was grateful enough to have guys on the team that called themselves Christians and the plan of salvation had been shared with me earlier when I was in Chicago on the All Star team. Although, at the time I heard with my ears, it didn't affect my heart… not until three years later. Riding home from the stadium that night in 1978, the Lord reminded me of his salvation for me. I raced home and fell on my knees and finally listened with my heart. I became a Christian at that point and it was evident because my life changed."
"The Bible says any man that is in Christ, the old things pass away and new things come."
"That is exactly what happened to me. The Lord still opens doors for me to share my testimony. The Lord says that if we trust Him, our faith will become sight."
Now his life consists of Sandy, his wife of twenty-eight years. In addition, his family has grown to include two sons, ages 26 and 23, and two dogs, a black Lab and a white Jack Russell, that he calls Dumb and Dumber. Steve and his children work for a construction company. "I love the company that I work for," Bartkowski says beaming. "I left what is considered a team sport and got into what is considered a team business. No one piece in football is greater than the sum of the whole. The guys that you play with either make your job easy or tough. Construction is very much the same."
However, Bartkowski has not been without his challenges. In 2005, he underwent chemotherapy for a colorectal tumor. Both of his knees – worn from over 20 years of injury – were replaced in 2006. Still he remains incredibly optimistic at all times. "I see people all the time trying to get it right, walking around like they are blind folded, playing pin the tail on the donkey. People want other things instead of pursuing God. They think, maybe if they can get that job, or promotion, or get more money, they will be happy."
"I believe by making sure that the vertical relationship with God is in line, then everything else will fall in place."
When asked what is next for him, Steve focuses on making the golden years the best. "I want to get a piece of property and fish and enjoy the outdoors. I have had a chance to do what few people in life get a chance to do and that is to live your dreams. I have had a real charmed life. I had an outdoor show where I was able to go hunting and fishing. The show lasted from 1989-1997." Steve also enjoys golf. He flew his own airplane for a number of years and is hours form getting his helicopter rating. In all that he does, Steve remains focused on how he can best be used by God.
EDITION IV 2007 www.swingmagazine.org, page 34-35