By Lover of Words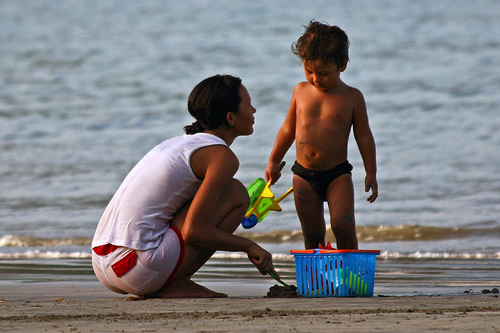 I was sitting on the balcony in an Oceanfront Condo in Maui, Hawaii when the Lord allowed me to see something spectacular. I was able to observe a woman, with a young child, on a beach in Hawaii. As I watched her, I noticed that she would keep the child from going to far in the water. But then right after that, she would guide him a little further in the water and let him play.
I watched her, as the water came in closer, she would move him closer to shore. But as the water stopped coming as close, she would guide him to it so he could enjoy it. She would let him play a little while, the whole time keeping a close watch that he didn't get into a dangerous situation. The woman would let him play but at the same time it was a controlled play area.
As I watched the woman she starting looking like a child. At first glance, the woman seemed to be the child's mother. But then after watching carefully, her having freedom enough to allow the child to have some fun and taste and yet have a strategic carefully guarded play area, I wondered if she was his sister. I watched a little while longer as she gave this little boy the time of his life while at the same time keeping a watch like a bear guarding her cubs.
As I watched them play, the suspense was killing me. I had to know. Was this woman the child's mother or his sister? I decided to go down to the beach and get a closer look. I put on my sunglasses as well as grabbed my camera. I wanted to appear as a gentlemen going down to walk on the beach and take some pictures. I wanted to get close but I didn't want to make the family uncomfortable.
I walked up slowly and took a couple of pictures of the ocean. I then walked over to the woman as she was playing with the child. I asked, "Is that your son?" The woman quietly said, "No, that is my daughter over there and this is my grandson. I was amazed… This was a grandmother that was allowing this child to play in the ocean, having the time of his young life but who also provided the proper protection so that there was no misfortune. This grandmother played with her grandchild like she was his sister.
She played just like a young girl trying to show her mother that she can have fun with the baby. Wait a minute! she was way to free for that. A sister would have not taken the liberties that this seasoned grandmother took. A sister would not have compromised her parents perception of things. That's right! this was his mother's mother. Which brings me to the whole reason of this story!
Our Father takes us through life's circumstances, and though at times they might seem life wrenching, he has control of the whole situation. In his infinite wisdom he allows us to experience certain things so that we can learn obedience and faith. When things get to rough, for a person to handle, he brings them a little closer to the shore. God Almighty is the "Father of spirits" and he says in his word that if you being evil know how to give your children good gifts… How much more will the Father give the Holy Spirit to those who love him.