By Larry Vaughn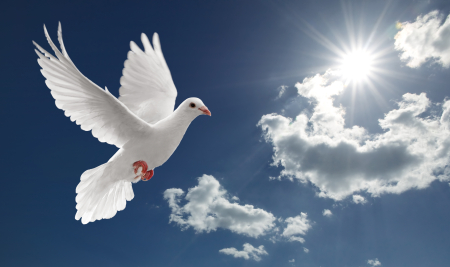 The Holy Spirit is the same Spirit that raised up Jesus from the dead. You have to know whether He lives in you, or not. But how can you tell?

This is what the Bible says about the Holy Spirit, and you know that the Bible is true.
"Hereby know we that we dwell in him, and he in us, because he hath given us of his Spirit." (1 John 4:13)
"The Spirit itself beareth witness with our spirit, that we are the children of God." (Romans 8:16)
"And it is the Spirit that beareth witness, because the Spirit is truth. And there are three that bear record in heaven, the Father, the Word, and the Holy Ghost: and these three are one." (1 John 5:6-7)
Here is something from my own experience that might be helpful.
I used to be self-absorbed. My thought life was all about me and my interests. I was always thinking about fulfilling my goals, and my hopes and dreams. Always asking myself, "Now what am I going to do for me?"
When I was a young man, just getting out of the Army, I needed a job to support my family. In desperation, I cried out to God for help. He answered my prayer. He gave me a job, and a whole lot more.
I really did appreciate his help and I told him so. I started paying attention to God and reading his word. I read about the Holy Spirit and I believed that was alive in me. But I was still the same selfish person I had always been.
After a while, I could see that I was changing. Instead of being so self-centered, I was genuinely interested in the people around me. I was patient and kind to them, instead of grouchy and impatient. I knew that I had not changed myself. This could only be the work of the Holy Spirit. I was glad to know for sure that he was definitely alive in me.
The Lord was changing from the inside. He was changing my interests and my desires. He was providing me everything I needed. He was providing me faith to believe his word, and love for others that wasn't there before. And he is still doing these things for me that is how I knew for sure that I had experienced the new birth.
Website: http://thelovecommandment.com